Soirée Métal #2 : The Soundroots + 1ère Partie Acid Rain (entrée 5€)
When:
13 March 2020 @ 21 h 00 min – 23 h 30 min
2020-03-13T21:00:00+01:00
2020-03-13T23:30:00+01:00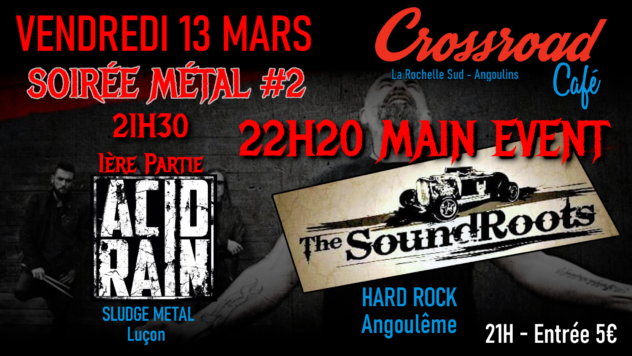 VENDREDI 13 MARS
Soirée Métal #2 – 21h – Entrée 5€
La soirée Métal revient au Crossroad Café pour une 2ème édition, et ça va être du lourd !
MAIN EVENT 22h20
Influencé par des groupes comme AC/DC, MOTÖRHEAD, BLACK SABBATH ou encore METALLICA, THE SOUNDROOTS propose une musique basée sur l'énergie.
Christophe BOURDAREAU – Chant
Olivier GUILLON – Guitare
Guillaume Royer – Guitare
Yohann RAUX – Batterie
Matthieu Guérin – Basse
21H30 : 1ère Partie : ACID RAIN – Sludge Metal – Luçon
Groupe de Sludge Metal formé en 2015 à La Rochelle , Acid Rain développe un son massif à la croisée entre Stoner , Doom et Sludge Metal.
Attention à ne pas sous estimer la puissance vocale de leur chanteuse Pauline qui sous son air envoûtant fera pâlir les plus barbus d'entre vous.
Acid Rain c'est un son mastodontesque, des riffs qui te décrochent la nuque et un appel à mettre la fosse à feu et à sang !
Alors ? Prêt pour la bagarre ?