Johnny Sansone : Live au Crossroad Café (Entrée sur Billetterie 10€)
When:
4 April 2020 @ 21 h 00 min – 23 h 30 min
2020-04-04T21:00:00+02:00
2020-04-04T23:30:00+02:00
Where:
Crossroad Café
Les Cadélis Est
17690 Angoulins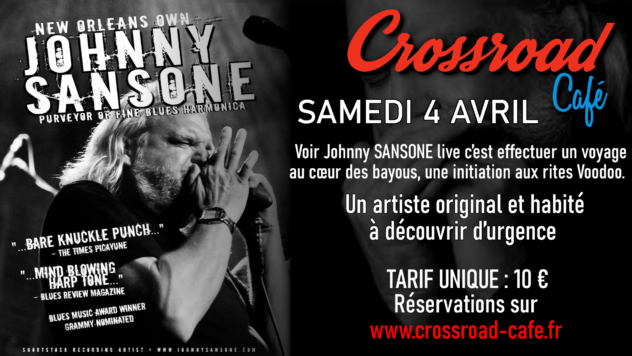 Samedi 4 Avril 2020
———
21h – Entrée 10€
———
Concert Blues avec Johnny Sansone
LE Bluesman de La Nouvelle Orléans !
Johnny Sansone, c'est un bluesman qui a la musique dans son ADN. Musiciens professionnels de père en fils, harmoniciste depuis l'âge de 10 ans et ayant joué avec les grands de la scène blues/jazz dans sa jeunesse, il rencontre Ronnie EARL, John Lee HOOKER, Jimmy RODGERS et Robert LOCKWOOD Jr et part en tournée avec eux dans les années 80.
Leader du groupe "Jumpin' Johnny & the Blues Party", il officie à l'harmonica et la guitare dans un style proche du delta blues comme on peut l'entendre sur l'album sorti en 1987 « Where Y'at ? » ou sur celui de 1991 « Mister Good Thing ». Installé à la Nouvelle Orleans, Johnny va tomber amoureux de la culture locale et s'en imprégner
Il est très impliqué dans la lutte pour le climat et la sauvegarde du littoral lousianais, il rejoint le projet "Voice of the Wetlands Allstars" au côté de Dr JOHN, Ciryl NEVILLE, Monk Boudreaux, Tab BENOIT. Malhreuseuement il sera frappé de plein fouet par la catastrophe que fût l'ouragan Katrina…Il en sortira l'album « Poor Man's Paradise » en 2007, produit par Anders OSBORNE qui montre à quel point Johnny a passé un cap majeur dans la composition et l'écriture.
« Hopeland » son dernier opus où figure le « North Mississippi All stars » est acclamé par la critique spécialisée et sera l'album le plus vendu durant le New Orleans Jazz & Héritage Festival 2018.
Voir Johnny SANSONE en live c'est effectuer un voyage au cœur des bayous, une initiation aux rites Voodoo. Un artiste original et habité à découvrir d'urgence.
Liens :