When:
24 April 2019 @ 21 h 00 min – 23 h 30 min
2019-04-24T21:00:00+02:00
2019-04-24T23:30:00+02:00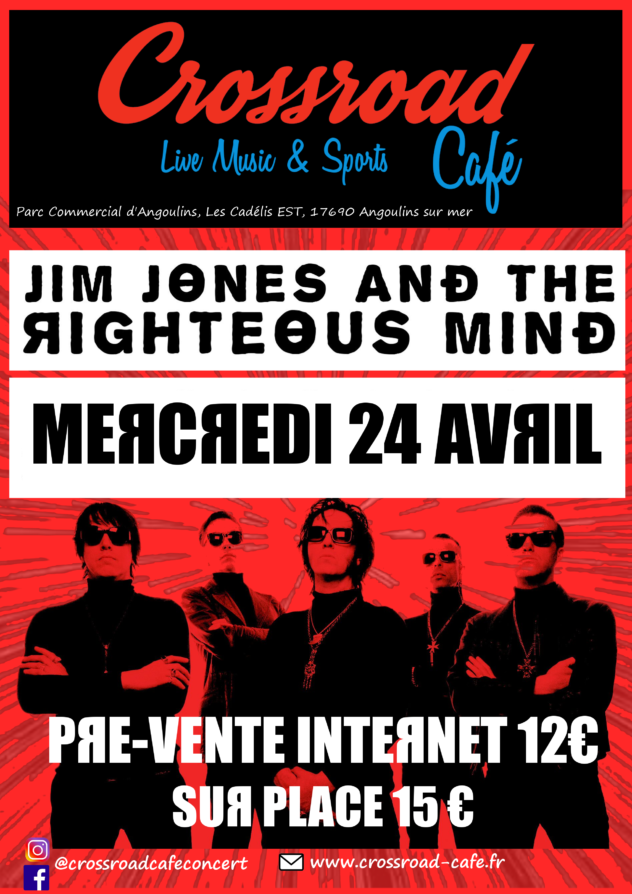 EXCEPTIONNEL !
Jim Jones and the Righteous Mind sont de retour sur scène pour défendre leur tout nouvel album, CollectiV.
L'histoire très particulière du chanteur/guitariste Jim Jones a connu plusieurs incarnations, de Thee Hypnotics à The Jim Jones Revue, en passant par Black Moses. 5 jours seulement après le concert d'adieux de The Jim Jones Revue à Londres, la nouvelle manifestation de sa vision musicale, Jim Jones & The Righteous Mind, était en studio pour enregistrer quelques morceaux qui allaient nous entraîner dans des eaux plus profondes, à la recherche de sons plus étranges.
Si Jim Jones Revue tapait dans le Rock'N'Roll 50's à la Jerry Lee Lewis et Little Richard, les Righteous Mind font eux, un rock tout aussi crasseux et viril, mais qui a plus à voir avec ses compatriotes de Gallon Drunk, les Grinderman de Nick Cave ou les premiers méfaits de Jon Spencer et ses Blues Explosion.
La « vision » musicale de Jim Jones s'empare désormais aussi du garage et du rock 'n' roll. Un disque à venir déjà salué pour ses paysages sonores cinématographiques sombres, sa psyché country blues teinté, gospel et « heavy lounge ».
PRIX D'ENTREE :
PRE VENTE INTERNET 12 €
SUR PLACE 15 €
Extrait :